Product Destruction Services
HOH Corporation offers complete secure/confidential destruction of packaged goods/returned goods. The State-Of-The-Art Single-Shaft RETECH Rotary Grinder design "U-Rotor" HOH utilizes is the most advanced cutting geometry for size reduction on the market today. The processing throughput is up to 2,200 lbs./hr.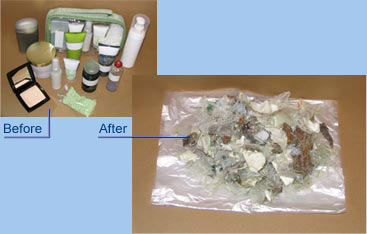 Some examples of material HOH can accept into the program:
Out-dated/returned consumer goods (dated, returned, damaged goods)
Pharmaceutical waste
Healthcare products
Cosmetics (Creams/lotions)
Confidential documents
Videotapes, computer disks, compact discs
Toys and other consumer type goods
Credit cards and coupon books
Food products
Product Recall products
To ensure your security and reduce your potential liability HOH offers:
Processing and storage area completely monitored by 4 camera embedded DVR security system.
Complete fenced-in facility.
ADT facility-monitored security system.
Certification of Waste Destruction on all shipments.
Subtitle D landfill utilized for processed waste material.
Recycling option for alcohol waste material.
Upon request, a Waste-To-Energy facility can be utilized for processed waste material.
Time-Sensitive processing (i.e. 24, 48, 72 hour processing upon request). Normal processing is within 5 days upon receiving material).
Customers/generators are welcomed to witness the processing/destruction.
Shipment of material to HOH (options):
Common-Carrier
HOH Corporation (note some pickups may be subcontracted)
Customer / Generatorís own transportation
Note: To ensure security / liability, the use of trailer seals is highly recommended.
Note: Bill Lading is the preferred shipping document
Packaging of material:
Original packaging (i.e. cardboard shippers)
Drums (metal & fiber)
Cubic yard boxes
Note: for ease of unloading, material must be on pallets. It would also be helpful if cardboard shippers (product original packaging) be shrink-wrapped or banded on a pallet.
Should you have a waste stream that would fit into this program, email
or call 336.727.4644 and we can offer you pricing and approval guidelines.
Home :: Company :: Oil/Water Separators :: The SKIMSTER® Floating Oil Skimmer
Industrial Wastewater Treatment Equipment :: Soil Vapor Extraction Systems
Liquid Handling Equip. & Replacement Parts :: Wastewater Treatment/Solidification Program
Product Destruction Services :: Contact Us