Soil Vapor Extraction Systems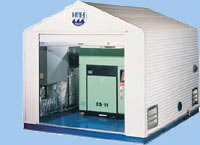 HOH Corporation designs and fabricates Soil Vapor Extraction (SVE) Systems to meet every customer's specification. Standard HOH packages are capable of a wide variety of flows and pressures.
Standard Equipment:
Regenerative Blowers (for low to medium flow & vacuum requirements)
Positive Displacement Blowers (for higher flow & vacuum requirements)
Appropriately sized explosion-proof blower motor
Moisture separator
Manual, automatic & safety relief valves
Vacuum & pressure gauges
Level controls
Inlet air filter
Intake silencer
Silencer for discharge
Air compressor / manifold
Manual on-off-auto switches (simplifying on-site maintenance operation)
Skid-mounted
HOH 10-point pre-startup inspection
Every HOH SVE System is fully assembled and tested for function, performance, and safety.
Optional Equipment:
Contained system (fully insulated units available)
Heat Extractor
Automatic shut-off for low vacuum
Temperature gauges and sensors
HOH Intelligence Control System:
A powerful but compact PLC with a 2 line 20 character operator interface. HOH has designed this system with the operator in mind with simple setup and operation. All systems set points can be set by operator, NO NEED FOR A LAPTOP. This "Stand-Alone" system is designed to "Think for itself" in remote or populated areas.
HOH's Intelligence Control System Features:
Blower high temperature cool off / shut down
Separator tank auto drain
Automatic shutdown for low vacuum
Power outage restart
"Real time" clock valve sequencing
"Real time" clock system auto on / off
System timers for run-time, fault-time, AC run-time, blower run-time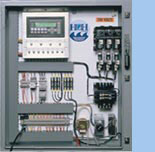 HOH can design and fabricate a system to fit your needs. Whether it's a system evaluation, equipment retrofits, or a complete system upgrade, HOH's comprehensive array of capabilities provides customers with the best, most cost-effective solutions to meet your specific needs.
Home :: Company :: Oil/Water Separators :: The SKIMSTER® Floating Oil Skimmer
Industrial Wastewater Treatment Equipment :: Soil Vapor Extraction Systems
Liquid Handling Equip. & Replacement Parts :: Wastewater Treatment/Solidification Program
Product Destruction Services :: Contact Us